Stepwells (locally known by various names such as Barav, Pushkarini, Vav, Baori, etc.) are unique structures that tap into ground water and can be approached by steps. There are over 10,000 step wells in Maharashtra alone. The well-known "Bara motanchi vihir" is shown below. It is believed that water was drawn by 12 draw pulleys, and it catered to all of them without drying up.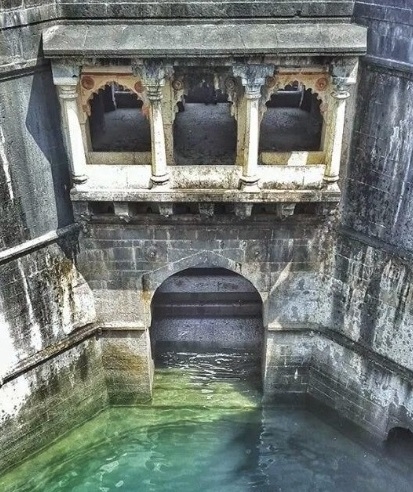 Sadly, most of the stepwells in the state are in disrepair and are unused. The rejuvenation of these structures can lead to water resource augmentation and greater awareness about preservation and cleanliness of water bodies. The historical, cultural and archaeological significance is considerable and may lead to additional benefits such as:


Tapping into a perennial source of drinking water (since the wells are already proven to be in an effective discharge area)
Raising awareness of the significance of ground water and water cleanliness
Study of geo-hydrology of the region
Revival of an old monument and structure of archaeological significance
Many volunteers are working in this area, notably Maharashtra Barav Mohim (www.indianstepwells.com). Sevavardhini is supporting them on a case-by-case basis.

For donors who wish to contribute to this project, the approximate cost is given below. The cost obviously varies depending upon the size, location, current conditions, etc.

| | |
| --- | --- |
| Activity | Approximate Cost |
| Selecting one suitable step-well, de-silting, cleaning, repairing, fencing and beautification | Rs. 2 to 5 lakh (0.2 to 0.5 million) |
| Rejuvenating 10 stepwells in any one district | Rs. 15 to 30 lakhs (1.5 to 3.0 million) |
| Rejuvenating 3 stepwells in each of 35 districts | Rs. 1.5 to 2.5 crores (15 to 25 million) |
If you are interested in knowing more about or supporting our stepwell rejuvenation initiative, do Contact Us